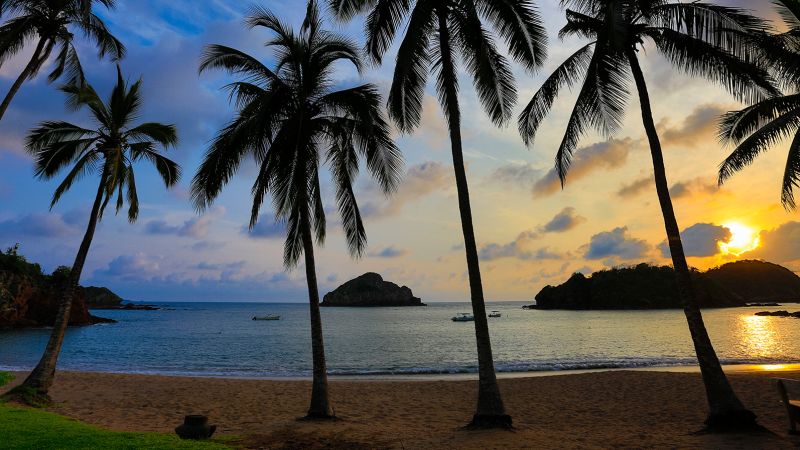 Editor's Note: CNN Original Series "Eva Longoria: Searching for Mexico" airs on CNN Sundays at 9 p.m. ET/PT. Sign up to CNN Travel's four-part Unlocking Mexico newsletter for more on the country and its cuisine.
CNN  — 
Finding your own stretch of sand in Mexico is not too daunting. This country has around 5,800 miles of coastline (9,330 kilometers), and only a fraction of that is developed for visitors.
Since most international vacationers head to the same few resort areas, that leaves a lot of beaches untouched, particularly for visitors willing to get a bit lost now and then.
Many of these are completely off the grid, however. They're not served by paved roads and are accessible only with a sturdy vehicle or a boat charter.
Overnight visits to nature reserve beaches require signing up with an adventure tour operator with permission to set up camping facilities. These would include Espíritu Santo Island near La Paz or the barrier islands of Magdalena Bay on the other side of Baja, a top spot to see baby gray whales swimming with their mothers.
These lesser-known beaches seldom see big crowds and traffic, but for added relaxation, you can order a Pacifico and ceviche with your toes in the sand or find a place to stay overnight.
For visitors willing to pay for exclusivity, several resorts on the Costalegre coast between Puerto Vallarta and Manzanillo have beaches on their property that outsiders would only be able to reach by boat. The newest is Four Seasons Tamarindo, which opened at the end of 2022.
At the 2,000-acre (809-hectare) Las Alamandas, which has its own airstrip, staffers can arrange for your group to have a whole beach to itself for one day. The resort has three from which to choose in addition to the main one in front of the rooms and restaurant.
Intrepid travelers on a budget can find plenty of "secret beaches" along this Jalisco coast, too, starting just south of Puerto Vallarta and Mismaloya. Most are down the end of a dirt road or next to a two-store town full of fishing families, but hotel rooms are available at Mayto Beach, which goes on for miles.
Few foreign visitors make it to the Oaxacan coast on the Pacific, though for surfers, the words "Puerto Escondido" are legendary. The high waves here are some of the most challenging in the Americas. So the main two-mile-long (3.2 kilometers) Playa Zicatela is better for strolling than swimming.
Walking distance from the center of town is much calmer Playa Carrizalillo, where beachgoers can rent a chair for the day, order some drinks and fish tacos, and watch less skilled surfers taking lessons. Past that heading northwest is pocket beach Playa Coral and then very long and mostly empty Playa Bacocho.
The crowds thin out even more about an hour east at Mazunte and Zipolite, beaches popular with backpackers and long-stay guests. (Be forewarned: Zipolite is a nude beach.)
Find bargain-priced rentals and thin crowds – outside of local holiday periods anyway – at the Gulf Coast beaches stretching from Telchac Puerto to Celestún. These beach towns north of Yucatán state's capital, Mérida, are just dots on the map in both directions from port city Progreso.
There are no high-rise hotels and few resorts along this coast, with Reef Yucatán being the only all-inclusive option on the water. It's more common for visitors to rent a beach house of some kind, ranging from small cottages at bargain rates to 10-bedroom villas with an infinity pool.
The Riviera Maya of Quintano Roo is built up with hundreds of resorts between Holbox Island down through Cancún to Tulum, so every decade it gets harder to find a mellow Caribbean beach on this coast.
Almost all the way to Belize, however, the small settlement of Mahahual still feels sleepy and undiscovered. Most of the visitors are quick-stop cruise ship passengers calling at the purpose-built Costa Maya port on the northern edge of town, but after they've pulled out, the beach goes back to being empty.
Only a few hotels here are more than $100 per night. Some are in the $35 to $70 range, so it's easy to stick around for a while for snorkeling off the shore, a scuba diving excursion to Banco Chinchorro or kayaking the nearby lagoons.
Technically, all beaches in Mexico are open to everyone, but the private beach clubs of the Punta Mita development north of Puerto Vallarta are really accessible only to homeowners and renters inside the massive gated community.
The two luxury resorts in the complex – Four Seasons and St. Regis – have their own long stretches of beach that are occupied by hotel guests. The price of renting a villa or hotel suite within the gates of Punta Mita comes with the assurance of lounging on an uncrowded, pristine Pacific beach.
For a nearby option that doesn't require any credentials, Playa Litibu is a walk down the sand from Punta Mita's Kupuri Beach Club.
Chiapas is known as an adventure state with jungles, Mayan ruins and the mountain city of San Cristóbal de las Casas.
It does have a few nice beaches – and ones that only see a crowd if it's a Mexican holiday period, when residents of the capital Tuxtla Gutiérrez head to the shore. The Puerto Arista beach is 20 miles long (32 kilometers) so there's bound to be a quiet spot on the sand on the Pacific.
The upscale resort Hotel Tachinaste can top $250 a night for double occupancy in high season, but most hotels in the area go for less than $100 a night.
Todos Santos, about an hour north of Cabo San Lucas, has a main beach that doesn't get all that crowded, with just a few hotels along its roughly 10 miles (16 kilometers) of sandy shores. Since the town itself is on the other side of a lagoon, it's easy to find an isolated stretch of beach to enjoy.
Lace up some hiking shoes, however, and you can trek across the tops of dramatic cliffs to reach Playa Las Palmas, a gorgeous crescent of sand that can otherwise only be reached by four-wheel-drive. This one is good for swimming, while other beaches, such as Playa La Pastora, are better for surfing and boogie boarding.